Leftover rice or quinoa laying around?! Make this Cauliflower Fried Rice ASAP!
I know a lot of people aren't huge fans of cauliflower rice by itself, which I can totally understand – it can get mushy and is not very substantial on its own. Well, my friends, have I a HACK for you: Try mixing it with another grain like actual rice or quinoa! It blends right in, and you hardly even know it's there. You get both the nutrients from the cauliflower and from the grain that you mix it with. PLUS you will feel more satiated from a meal that includes a whole grain, and not just vegetable matter. PLUS your meal will be lighter because of the cauliflower addition so you can eat MORE of it!
Super healthy, super satisfying, and SUPER delicious!
PRO TIP #1: when ricing your own cauliflower, be careful not to over process it. If you do, it will turn to mush when you cook it. Use your food processor or blender to pulse (don't blend) it into pieces that are slightly larger than grains of rice. It is often best to do this in small batches to keep the size of the "grains" even.
PRO TIP #2: If you have time, make the rice/quinoa the day before (or use leftover!) and refrigerate overnight. This helps the grain dry out so that the fried rice won't be mushy. Alternatively, you can make the grain (rice or quinoa) on the same day and then spread out evenly over a baking sheet and put in the fridge to cool until ready to use. If you are in a real time crunch, just add the freshly-cooked grain right into the fried rice dish. It might be slightly mushy, but it will still taste delicious!
---
Cauliflower Fried Rice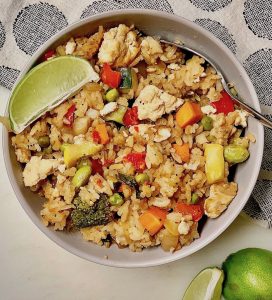 Ingredients
1 cup rice or quinoa, uncooked
½ head cauliflower, chopped into large pieces
1 medium sweet onion, chopped
5 garlic cloves, minced
3 large carrots, grated or diced

1 cup frozen peas

1 cup frozen edamame, shelled

3 oz. baby spinach or kale

½ block super firm tofu, crumbled

⅓ cup soy sauce

2 teaspoons toasted sesame oil

3 tablespoons coconut sugar
For serving
A squeeze of fresh lime 

Chopped fresh basil 

Toasted sesame oil

Sriracha or red chili sauce, optional
Order of Operations
Cook the rice/quinoa

. 

In a medium-sized saucepan, add 1 cup of white rice or quinoa. Rinse with water a few times, until water runs clear. Then add just under 2 cups of water and ½ teaspoon of salt to the saucepan. 

Cover and bring water to a boil over high heat. Then reduce heat to low and let simmer gently for 20 minutes, until all of the water has been absorbed. 

Once cooked, spread the rice/quinoa over a large plate and place in the freezer to cool. 

Rice the cauliflower.

Chop the cauliflower into large florets/pieces. 

Add the cauliflower pieces to a large food processor and pulse lightly until the cauliflower has been chopped into smaller, rice-sized pieces. Be careful not to over-pulse. **Note: You may have to work in batches, transferring the riced cauliflower to a bowl after each batch.

Prep the veggies, tofu, and sauce

.

Chop the onion and 3 carrots. Mince 5 cloves garlic. Prep the greens (if necessary). Set aside.

Crumble ½ block of tofu into a small bowl. 

Whisk together the following ingredients in a small bowl:

⅓ cup soy sauce

2 teaspoons toasted sesame oil

3 tablespoons coconut (or brown) sugar

Cook the veggies & tofu.

In a large skillet, heat ½ tablespoon of avocado oil over medium heat. Once hot, add the onions, garlic, and carrots, sprinkle them with salt, and sauté until they begin to soften, about 3-4 minutes.  

Add 1 cup peas, 1 cup edamame, 3 oz. greens, and crumbled tofu. Drizzle 1-2 tablespoons of the prepared sauce over veggies and continue to saute another 2-3 minutes, until greens are wilted and cooked. 

Remove veggies/tofu to a bowl and set aside. 

Make the fried rice.

In the same skillet, heat ½ tablespoon oil over medium-high heat. Once hot, add the riced cauliflower and distribute in an even layer over the surface of the pan. Let cook for a few minutes, before flipping/stirring and let cook another 2-3 minutes, until softened.

Reduce heat to medium. Stir in the cooled rice/quinoa, the veggie/tofu mixture, and the remaining sauce. Combine thoroughly and let cook all together until the sauce has been absorbed and the veggies are fully cooked, another 2-3 minutes. 

Serve with a squeeze of fresh lime, freshly chopped basil and a drizzle of toasted sesame oil and sriracha (optional).