Beet Hummus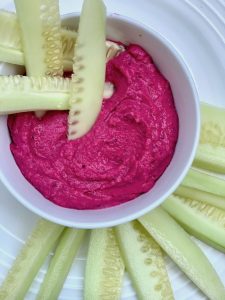 This beet hummus recipe couldn't be easier…or more beautiful! I mean, can you believe that color?! This beet hummus is sure to be a hit at your next potluck!
The best part about this beet hummus recipe is that the beet not only provides that astounding color, but it is also gives the hummus an extra punch of nutrients! Beets are loaded with folate, fiber, vitamin C, and magnesium, but they also have many other, lesser-known nutrients that provide powerful health benefits. For example, beets are a great source of nitrates, which help to keep your blood vessels nice and wide, ensuring that blood can flow freely through. Studies have shown an increased flow of blood to the brain after eating foods containing nitrates (such as beets).
The recipe is a spin off of my original hummus recipe. I just added a small, raw beet and a jalapeño (optional, but gives a nice little kick) and viola! That is the beauty of hummus. It provides an amazing foundation on which to build. The possibilities of additional flavor options are literally endless. I've even seen chocolate hummus!
Here are some other possible variations:
Cilantro lime
Tomato basil
Roasted red pepper and garlic
Sriracha ginger
Kalamata olive
Roasted onion and dill
Curried raisin
Beet Hummus Recipe
1, 14 oz. can (or 2 cups) garbanzo beans
¼ cup tahini
3 tablespoons lemon juice (about 1 plump lemon)
⅓ cup hot water
2 small garlic cloves, peeled and left whole
½ teaspoon sea salt
1 small raw beet, quartered
1 jalapeño, coarsely chopped, optional
Instructions:
Blend all ingredients together in a food processor or high speed blender until smooth.
If consistency is too thick/grainy, add more hot water little by little until desired consistency is reached.
Use as a dip, or spread on toast, sandwiches, or wraps. Refrigerate up to 4-5 days.