This one's for all my Indian food fanatics out there. This vegan butter chicken will blow you away. It is so flavorful, rich,  and creamy with crispy chunks of baked tofu for texture. A take on the classic Indian dish, butter chicken, which is typically made with, you guessed it, butter (or ghee) and heavy cream. Instead, this flavorful dish is made with a cashew cream, and trust me, it is just as creamy and delicious.
Let's talk about the crispy tofu. Coat the tofu in a little bit of corn starch, bake it, and boom! It transforms into a crispy delight. You may even be able to fool your friends into thinking it is fried. Try feeding it to a tofu-hater and see what response you get. You might just turn him/her into a convert. I know because this is exactly what happened the first time my dad tried tofu made this way. Every time I use this simple technique it blows my mind.
And now for the sauce. I chose to use cashews to give the sauce its rich, creaminess but if you would prefer not to deal with the hassle of a blender or food processor, you can sub the cashews out for a can of full-fat coconut milk or cream instead. It will be equally as amazing, just keep in mind that coconut milk is high in saturated fat so it's not something you want to be consuming on a regular basis. But everything in moderation, right?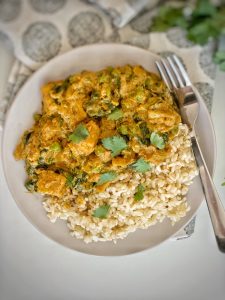 I added spinach and peas to this recipe to bulk up on the veggies (and because they are delicious additions) but if you would prefer to leave them out, or sub in other veggies, feel free. Other veggies that would go well in the sauce would be:
Cauliflower
Broccoli
Potatoes
Sweet potatoes
Zucchini
Carrots
Eggplant
…so pretty much any veggie would make a good addition to this delicious sauce. I love adding as many veggies as possible because it adds so many nutrients to my dish, it tastes amazing, AND it stretches the amount of food I am left with, meaning I get to eat more. Win-win-win.
I HIGHLY recommend making a batch of my amazingly delicious vegan garlic naan to go with your Vegan Butter Chicken. It is so simple to make and is the perfect thing for soaking up all of that yummy sauce!
Now, on to the magic!
---
Vegan Butter Chicken
(Makes about 4 servings)
For the tofu 
1 block of

super

firm tofu

2 tablespoons cornstarch

¼ teaspoon salt
For the sauce
¾ cup raw cashews

¾ cup unsweetened plant milk

1 tablespoon avocado oil

1 medium white or yellow onion, finely chopped

3 garlic cloves, minced

½ tablespoon ginger (about a ½ in. piece) peeled and finely minced

2 teaspoons garam masala

1 ½ teaspoon turmeric

1 ½ teaspoon coriander

1 teaspoon cumin

¼ teaspoon cinnamon

⅛ teaspoon cayenne pepper

½ teaspoon black pepper

½ tablespoon pure maple syrup

¼ cup tomato paste

1 teaspoon salt, or to taste

1 cups of peas 

2-3 cups baby spinach or your favorite leafy green 
Serving suggestions:
Brown rice

Fresh cilantro

Naan
Instructions
Place the cashews in a microwavable bowl and cover with at least 2 inches of water. Microwave for 2 minutes, remove from the microwave and let sit in hot water until ready to blend. Alternatively, boil 2 cups of water and pour over cashews, then let them soak in hot water.

Preheat the oven to 400°

and line a baking sheet with parchment paper or a silicone mat.

Use your hands to break the block of tofu into bite-sized pieces. This will give the tofu a nice texture in the sauce, but if you would prefer to cut it into cubes, that will work too. 

Place pieces of tofu into a ziplock bag and add cornstarch and salt. Shake well to coat each piece evenly. 

Remove tofu from the bag and place on a baking sheet. Be sure that none of the pieces touch. Place in the heated oven and bake for 25-30 minutes, or until golden brown and crispy. Remove from the oven and set aside.

While tofu is baking, make the sauce. First, blend raw cashews and plant milk together in a food processor or high-speed blender for about 2 minutes, until very smooth and creamy. Set aside.

Heat oil (or water for oil-free) over medium-high heat. Add onion, garlic, and ginger and saute for about 5 minutes, stirring frequently, until onion is translucent.

Add all spices and stir to combine. Let cook for 1 minute more. 

Add tomato paste, maple syrup, and cashew cream and stir to thoroughly combine. 

Once the sauce is simmering, add peas and spinach and let sauce simmer for 10-15 minutes, stirring frequently. Adjust seasoning to taste.

When tofu is done baking, add it to the sauce and stir until tofu is completely coated. 

Serve over rice with a sprinkle of fresh cilantro. 
---
Grocery Shopping List
Avocado oil

Cornstarch

S

uper

firm tofu (vacuum sealed vs. packaged in a plastic tray, 1 block

Raw cashews, ¾ cup

Unsweetened, plant-based milk

Frozen or canned peas, 1 cup

Baby spinach, 2-3 cups

Onion, 1 white or yellow

Garlic, 3 cloves

Fresh ginger root, ½ inch piece

Pure maple syrup

Tomato paste

Garam masala (Indian spice blend)

Turmeric

Coriander

Cinnamon

Cumin

Cayenne

Black pepper

Salt