Jackfruit Enchilada Lasagna
Why make enchiladas when you can make ENCHILADA LASAGNA?! Corn tortillas layered with homemade (or store bought if you prefer) enchilada sauce and a bunch of yummy veggies, meaty jackfruit, beans, and corn for a super hearty, health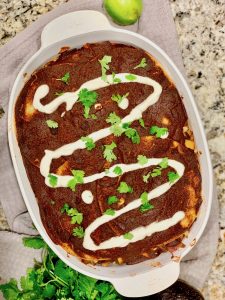 y, and delicious meal! What could be better?!
As much as I love to cook, I am definitely on the lazier end of the spectrum. I like one-pot meals, soups, casseroles, etc. This recipe is perfect for those who don't want to spend time rolling each enchilada by hand. Just throw it all in a large casserole dish, and you still get all of those amazing flavors in every bite! It is extremely satiating and filling, so you will most likely have leftovers, which are just as delicious as it is fresh out of the oven.
What the heck is jackfruit?
Let's talk about jackfruit. Native to southeast Asia, jackfruit is gaining popularity in the Western world as more and more people are turning to a plant-based diet and experimenting with meat substitutes. Jackfruit has a meaty, yet stringy texture and can be used in recipes calling for pulled pork or chicken, or even crab meat, ex. BBQ pulled pork, chicken tortilla soup, crab cakes, and so much more. Buying a fresh jackfruit is somewhat of a financial investment as well as a time commitment. They are very large fruits (about the size of a small watermelon) that will run you about $20 and require about an hour's worth of work to harvest the fruit from its sticky, fibrous interior. If this sounds daunting, you can find canned (brined) jackfruit at certain stores, such as Trader Joes, Whole Foods, and Sprouts that is great (and easy) to coo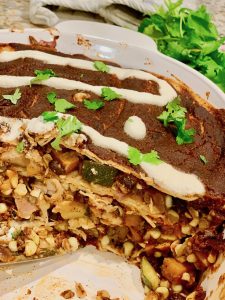 k with.
Here is a great resource with 18 jackfruit recipes.
It's all about the sauce…
For this recipe, I made my own enchilada sauce, but feel free to use store bought. You can also switch it up completely and use a green enchilada sauce. I haven't tried this, but I'm sure it would work equally as well if that is what you're into. Get creative with the veggies for the filling as well! Some other good additions would be mushrooms, bell peppers, jalapeños, squash, tomatoes, etc. The sky is the limit!
Jackfruit Enchilada Lasagna
(Serves 8)
For the filling:
1 red onion, chopped
1 large sweet potato (or 2 medium), diced
1 zucchini, diced
2 cups corn
1 can black beans
1 can pinto beans
2 cups (or one can) young jackfruit
1 teaspoon salt
1 teaspoon pepper
2 tablespoons chili powder
2 teaspoons cumin
2 teaspoons garlic powder
1-2 teaspoons chipotle (or cayenne) powder (depending on how spicy you like it)
12 corn tortillas
For the sauce:
1-2tablespoons avocado (or olive) oil
3 tablespoons whole wheat flour
2 tablespoons chili powder
1 teaspoons cumin
1 teaspoon garlic powder
1/4 teaspoon dried oregano
1/2 teaspoon salt, to taste
Pinch of cinnamon (optional, but recommended)
2 tablespoons tomato paste
2 cups vegetable broth
1 teaspoon apple cider or white vinegar
Freshly ground black pepper, to taste
Instructions
To make the sauce, first measure out the dry ingredients (flour, chili powder, cumin, garlic powder, oregano, salt, and cinnamon) into a small bowl and set aside.
Warm oil over medium heat until it is hot enough that the flour sizzles when sprinkled in.
Once hot, pour flour and spice mixture into oil. Whisk constantly for about 1 minute until fragrant and slightly deepened in color. Whisk in tomato paste, then slowly pour in broth while continuing to whisk.
Raise heat to medium-high bring sauce to a simmer, then reduce heat to low and continue to gently simmer for about 5-7 minutes, whisking frequently, until sauce has begun to thicken.
Remove from heat, whisk in vinegar and adjust seasoning to taste, adding black pepper and m
ore salt as needed. Set sauce aside.
To make the filling, in a large skillet or stockpot, heat a swirl of oil. Add red onion and sauté until soft, about 4-5 minutes.
Add sweet potato and zucchini and continue to cook another 4-5 minutes, stirring occasionally.
Add corn, beans, jackfruit, and spices and stir to combine. Let cook all together until veggies are soft and everything is heated through, another 7-10 minutes. Set aside.
Preheat oven to 400 degrees.
In a large casserole dish, spread a thin layer of the enchilada sauce over the bottom. Next place corn tortillas over sauce in a single layer, so that they cover the entire surface of the dish.
Scoop a generous amount of the filling into casserole dish to cover the tortillas with an even layer. Top with more enchilada sauce and then repeat steps 9 and 10 until you have used all of the filling and sauce in the layers of your lasagna. There should be enough for 3 layers of tortillas.
Spread the last of the sauce over the top of your casserole and bake for 15-20 minutes.
Remove from oven and let rest for about 10 minutes before cutting and serving.
Garnish with cilantro, fresh lime, and cashew sour cream.
FEAST!