Vegan Butternut Squash Mac and Cheese
This vegan Butternut Squash Mac and Cheese recipe is a WINNER! It's creamy, it's rich, it's comforting, it's…PLANT-BASED! Oh, and it is also SUPER easy to make!
I have searched high and low for a plant-based alternative to mac and cheese, and feel like this is the closest I have gotten. I LOVE that the main ingredients are vegetables (butternut squash, potatoes, and onions) but it also has a richness to it from the cashews that get blended in with the sauce. But the spices are what take it to the next level. Some of them may sound questionable…like mustard and nutmeg?!? But trust me, these spices are what give the sauce its amazing depth of flavor so that it actually does resemble cheese! It is amazing what you can create without having to use actual cheese, butter, and milk!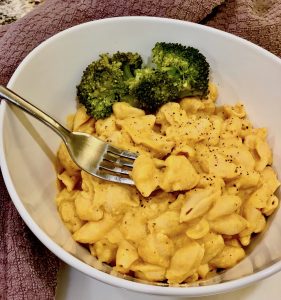 Additional Sauce Uses
Once you have made the sauce, don't feel the need to limit yourself to mixing it with pasta and calling it a day. It can really go on just about anything…
Pour it over a baked potato or sweet potato
Mix it with some brown rice and broccoli for a cheesy casserole-type dish
Use it as a nacho-cheese dip or spread
Honestly, I would even go as far as to suggest eating it all by itself, as a creamy, butternut squash soup. Get fancy with it and throw it in a bread bowl?! Woah. Now I'm drooling…
To Freeze or Not to Freeze
I highly recommend making a double batch of this liquid gold and freezing whatever you don't use for a rainy (or sunny) day when you don't have the time or energy to cook. Imagine how happy your future self will be after a long day, when all you want is a piping hot bowl of comforting mac and cheese but you don't have the energy to make it. And then BAM. You realize that you have some sauce in the freezer and that all you have to do is boil some pasta and defrost the sauce and your wildest mac and cheese dreams will come true!
PRO TIP
Here's another pro-tip for you. Although you most likely won't use the entire butternut squash in this recipe, peel and chop the whole thing when you are prepping it. That is the bulk of the work when it comes to cooking butternut squash. Whatever you don't use to make the sauce, either put in the fridge or put directly on a baking sheet and roast in the oven at 425 degrees for about 25-30 minutes, until soft. Then you will have delicious roasted butternut squash on hand to throw into salad bowls, wraps, pastas, or whatever else you are eating for the next few days.
Whatever it is you choose to do with this delicious sauce and the leftover butternut squash, I hope you enjoy it! Here's to happy, healthy eating!
Vegan Butternut Squash Mac and Cheese Recipe
1.5 cups butternut squash, peeled and chopped
2 Yukon gold potatoes, chopped
1 sweet onion, chopped
1 cup raw cashews
1 cup unsweetened plant-based milk (I used oat)
4 tablespoons nutritional yeast
2 teaspoons garlic powder
1 teaspoon apple cider vinegar
1 teaspoon smoked paprika
3 teaspoons Dijon mustard
2 teaspoons lemon juice
1 teaspoon salt
1/4 teaspoon pepper
1/4 teaspoon turmeric
1/8 teaspoon nutmeg
Instructions
Put butternut squash, potatoes, onions, and cashews in a medium sized pot. Cover with about 1-2 inches of water and bring to a boil. Reduce heat and let cook until vegetables are soft. Drain and transfer to a high speed blender.
Add all remaining ingredients to blender and blend on high until mixture is completely smooth, about 2-3 minutes. Season to taste.
Meanwhile cook pasta according to package directions. Drain and return to pot.
Pour sauce over pasta and stir to combine. Heat thoroughly and serve.