Vegan Mushroom Stroganoff
This vegan mushroom stroganoff is seriously magical. It is so rich and creamy that you will may think you are eating a sauce made from heavy cream and butter, but NO! This decadent sauce is made from 100% whole, plant-based ingredients.
The recipe calls for either white or cremini mushrooms, but I feel fairly confident that you can use any type of mushroom.  A blend of various types would also be great. In my opinion, the more mushrooms, the better! Hence, also, the addition of mushroom broth – if you can find it. If not, veggie broth will work great too. I love using Better than Bullion (a concentrated broth paste) because of the flavor and also because it keeps me from having to throw away carton after carton of empty broth containers.
If you don't have a food processor or high-speed blender, or just don't feel like getting it out and creating more dishes for yourself, you can substitute a can of full-fat coconut milk or even just unsweet plant milk for the cashews and just add the other ingredients for the cashew cream directly into the sauce pot rather than blending them. The recipe will still turn out great!
Traditionally, this dish is served of egg noodles, but you can serve it over any pasta that you like or get crazy and try it over brown rice, quinoa, or a baked potato! The world is your oyster!
---
Vegan Mushroom Stroganoff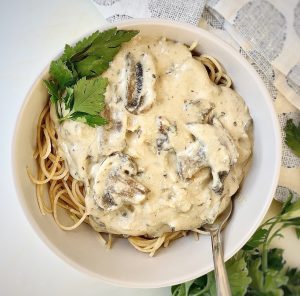 Ingredients (serves 4)
1 tablespoon avocado oil (or sub water)

1 medium onion, diced

5 garlic cloves, minced

1 lb. white or cremini mushrooms, sliced

½ teaspoon salt

½ teaspoon pepper

1 teaspoon thyme

3 tablespoons all-purpose four (or sub 1 tablespoon cornstarch for gluten-free option)

2 cups mushroom (or vegetable) broth

8 oz. pasta of choice
For the cashew cream
1 cup raw cashews, soaked in hot water 

1 cup water

1 tablespoon lemon juice

1 tablespoon apple cider vinegar

2 tablespoons nutritional yeast

2 teaspoons dijon mustard

¼ teaspoon smoked paprika
Optional Garnishes
Crushed red pepper

Fresh thyme or parsley

Freshly ground black pepper 
Instructions
Place cashews in a microwave-safe bowl and cover with water. Microwave for 2 minutes and then let soak in hot water until it's time to blend. 

Cook pasta to just al dente, according to package directions. Drain and run under cold water to prevent overcooking. Return to the pot and set aside. 

Chop onions, garlic, and mushrooms. 

In a separate, large saucepan or pot, heat oil (or water) over medium-high heat. Add onion and sauté until it begins to soften, about 3-4 minutes. 

Add mushrooms, garlic, salt, pepper, and thyme and let cook about 5-6 minutes, until mushrooms begin to brown, stirring occasionally. 

Meanwhile, in a food processor, blend all of the cashew cream ingredients (cashews, water, lemon, vinegar, nutritional yeast, mustard, and smoked paprika) until the sauce is

very

smooth, about 2-3 minutes. 

Add flour (or cornstarch) to the mushroom mixture and stir to combine. Let cook about a minute, and then add ½ a cup of broth. Stir until flour is thoroughly incorporated and no lumps remain. You will be left with a thick paste. 

Add the remaining 1 ½ cups broth and stir to combine thoroughly. 

Stir in the cashew cream and bring mixture to a boil, then lower heat and let sauce simmer for about 5 minutes, stirring frequently, until it starts to thicken. Season to taste.

Transfer sauce to the pot with the cooked pasta in it and stir to combine. Heat over medium-low for about 5 minutes, until pasta is cooked through, stirring occasionally to keep from sticking or burning. 
Enjoy! 🙂 
---
Shopping Checklist
To make your life at the grocery store a bit easier, I have compiled a list of ingredients that you will need to make this recipe:
Onion, 1 medium, white or yellow

Garlic, 5 cloves

Mushrooms, 1 lb., white or cremini

Lemon, 1 fresh

8 oz. pasta of choice

All purpose flour (or cornstarch)

Mushroom (or vegetable) broth, 2 cups

Cashews, 1 cup, raw

Apple cider vinegar

Nutritional yeast

Dijon mustard

Thyme

Smoked paprika

Salt 

Pepper