Check out this knock-off, vegan egg salad! From the looks of it, you'd never know it didn't actually have egg in it if I didn't just let you in on that little secret, right? It tastes just like the OG too, thanks to the black salt (kala namak) which has a sulfur/eggy flavor. How neat is that? You gotta try it to believe it.
It is also much simpler to make than traditional egg salad because you don't have to deal with boiling the perfect hard-boiled egg (a skill in itself) and then peeling them, which can often lead to a lot of frustration…am I right?
I hope you enjoy this vegan egg salad recipe! I'd love to hear what you think if you make it!
---
Vegan Egg Salad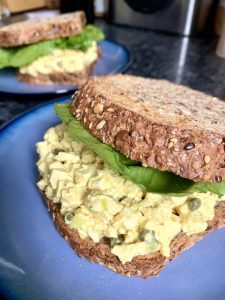 1 block firm tofu, drained and chopped
2 green onions, light part only, finely chopped
1-2 tablespoons capers
1/2 cup mayonnaise
2 teaspoons yellow mustard
2 teaspoons white vinegar
1 teaspoon vegan Worcestershire sauce
1/2 teaspoon black salt (kala namak) – for the eggy flavor
1/2 teaspoon turmeric
1/4 teaspoon black pepper
Drain and chop tofu then transfer to mixing bowl along with chopped green onions and capers.
Combine remaining ingredients in a small bowl then add to the bowl with chopped tofu, green onions, and capers. Stir to combine then adjust seasoning to taste.
Serve over a bed of greens or on a sandwich with your favorite fixings. Enjoy!