This vegan split pea soup recipe is sure to hit the spot this winter! It is hearty, comforting, nourishing and SO simple to make.
This one-pot wonder is made from only 10 common ingredients (including salt, pepper and water!) but is super versatile. It would lend itself well to additional veggies such as:
Broccoli
Cauliflower
Sweet potato
Greens (spinach, kale, chard, etc)
Zucchini
Whatever extra veggies you'd like to add, just chop them up to about the same size as the potatoes and carrots, and add them into the pot when you add the other veggies. Remember, each vegetable has a different nutrient profile and offers unique health benefits, so the more variety of vegetables you include in your diet, the better! That's why you may have heard the advice to "eat the rainbow." This recipe is a great opportunity to stock up a bunch of veggies all at once!
This soup makes a great leftover meal and therefore is a perfect meal-prep option. If anything, it will taste better the next day after the flavors have had some time to develop. It also freezes well, so make a double batch and save yourself some time down the road!
Enjoy it by itself, or serve it over a whole grain, like brown rice or quinoa, or with a slice of whole-grain bread to make it a complete meal. It doesn't get much healthier than that!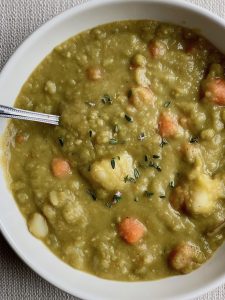 Fun fact: Split peas are loaded with protein! Ever heard of pea protein? They contain high levels of fiber, iron (iron doesn't only come from red meat!), zinc, and phosphorus. They (along with other legumes) have also been found to help reduce cholesterol, hypertension (high blood pressure), and the risk of diabetes. Moral of the story: eat your legumes!
---
Vegan Split Pea Soup
Ingredients
1 onion, diced
3 cloves of garlic, minced
2 cups carrots, chopped
2 stalks of celery, chopped
3 potatoes, cut into 1/2 in cubes
2 1/2 cups green split peas
1 1/2 tsp salt
1 tsp black pepper
1 tsp thyme (optional)
9 cups water or vegetable broth (or some combination of the two)
Instructions
Sauté onion on medium heat until translucent.
Add garlic, carrots, celery, potatoes, any additional veggies, split peas, salt, pepper and thyme and stir to combine. Cook 3-5 minutes, stirring frequently.
Add water or broth and bring to a boil, then reduce heat and let simmer for about an hour, or until peas are tender.
Remove from heat and let rest about 20 minutes. Soup will thicken as it sits.
Garnish with fresh thyme, hot sauce, and/or a dash of vinegar.