I know so many people who say they could never eat plant-based because they could never give up cheese. So to all of you who can relate to that statement, this vegan spinach ricotta ravioli recipe is for you. When you can make an equally delicious, plant-based version of ricotta, you can have your cheese and eat it too!
The spinach ricotta ravioli is stuffed with a homemade vegan ricotta made from almonds! It is incredible how similar it is to actual dairy-full ricotta. From the texture to the taste, it is so spot on that even non-vegans will love it!
You can use the ricotta filling for other dishes as well including lasagna, stuffed shells, baked ziti, and pretty much any other recipe that calls for ricotta. It is so versatile. You can also alter what you add to the ricotta itself. This recipe has spinach and basil mixed into it, but you can also mix it with ant other veggies and herbs that you like. I haven't tried this yet, but I am curious about making a sweet version and using it like you would for desserts with cream fillings, like cannolis. The options are endless!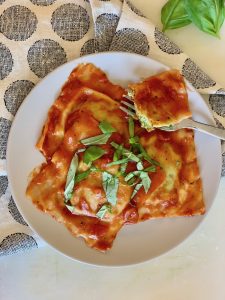 I used slivered, blanched almonds for the ricotta because they are softer because of having been blanched. You can sub raw cashews but I would recommend soaking them in boiling water for at least 10-15 minutes before blending to soften them up. An easy way to soak cashews is to put them into a microwavable bowl, cover them with water and microwave them for 2 minutes. Then let them soak in the hot water as you prepare your other ingredients, until you are ready to blend them.
For the ravioli itself, I used wonton wrappers just to save a little time, but you could definitely make these with homemade pasta dough. You could even get away with using a rolling pin to get the dough thin enough, if you don't have a pasta maker, and then just cut it into circles or squares by hand. I'm sure that would be delicious but if you are short on time, wonton wrappers are the way to go!
The pasta sauce is also totally optional. If you would prefer to use a different sauce or even just a drizzle of olive oil and some vegan parm (yum), you can cook the ravioli in boiling water, as you would cook pasta, rather than cooking directly into the sauce, as the recipe says to do. The options are endless!
---
Vegan Spinach Ricotta Ravioli Recipe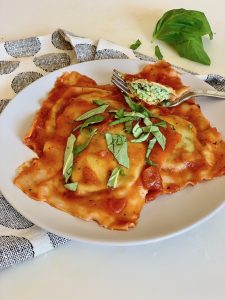 For the ravioli:
1 package of wonton wrappers

½ cup water
For the sauce:
1 jar marinara sauce

Fresh basil, chopped (optional)
For the filling:
3 cups raw baby spinach leaves

1 medium yellow or white onion, chopped

1 cups slivered, blanched almonds

¼ cup fresh basil leaves

2  teaspoons nutritional yeast

1 tablespoons lemon juice

½ teaspoon salt

⅓ – ½  cup water
Instructions
In a large skillet, heat ¼ cup of water over medium heat.

Once water starts to bubble, add onions and saute for about 3-4 minutes until translucent, stirring occasionally. 

Stir in spinach and let wilt. Remove from heat and set aside.

In a large food processor or high speed blender, add almonds, basil, nutritional yeast, lemon juice, salt and water (start with lesser amount and add more if needed). Blend until a smooth, yet slightly grainy consistency forms, adding more water if needed. 

Add cooked spinach and onions to the food processor and pulse to combine. Be sure not to over mix, you don't want to blend the spinach up entirely into the mixture, there should still be some whole pieces. 

Pour ½ cup of water into a shallow bowl. Place a wonton wrapper onto a flat surface. Dip your fingertip into the water and then lightly wet all 4 edges with water.

Use a tablespoon measure to scoop out a tablespoon of the ricotta mixture and place it in the center of the wonton wrapper with moistened edges. 

Take a second wonton wrapper and place it directly on top of the first wrapper with the ricotta in the center, lining the edges up. Use a fork to gently press the edges together to seal the ricotta inside the wonton wrappers.

Repeat steps 6-8 until you have made as many raviolis as you would like. Any leftover ricotta can be saved for later use.

In the same skillet that you cooked the spinach and onions, heat a thin layer of marinara sauce over medium-high heat.

Once the sauce begins to bubble, carefully lay ravioli in a single layer in the skillet. 

Let the ravioli cook for 2-3 minutes on one side and then use a spatula to flip each one over and let them cook another 2-3 minutes.

Remove ravioli from skillet and top with more sauce and chopped, fresh basil leaves, if desired. 

Serve immediately and top with my plant-based parm (optional but recommended) and enjoy!
---
Grocery Shopping Checklist
1 package wonton wrappers (available at most mainstream grocery stores, like Vons, in the refrigerated section, usually near the tofu/vegan meats.)  

1 jar marinara or pasta sauce of your choice

Fresh basil

1 bag of fresh spinach

1 onion (yellow or white)

8 oz. slivered, blanched almonds

Nutritional yeast (available at most mainstream grocery stores, as well as Trader Joes and Sprouts — NOT the same as baker's yeast!)

1 lemon

Salt