This creamy, delicious, vegan baked ziti is so rich and hearty you won't believe it is dairy-free! Made with an almond-based ricotta, you can eat a huge bowl of it without feeling heavy and gross afterward! Talk about a win-win!
NOTES:
I used blanched, slivered almonds for the ricotta because they are softer, but you can also use plain, raw almonds in a pinch.
When you blend the ricotta, the mixture will be very watery – almost the consistency of almond milk. Don't worry! It will thicken up in the oven, thanks to the tapioca flour, so don't leave that out!
The pasta will cook in the oven and absorb a lot of the liquid from the sauce/broth mixture, so don't worry if that seems too watery at first as well.
---
Vegan Baked Ziti with Sun Dried Tomatoes and Spinach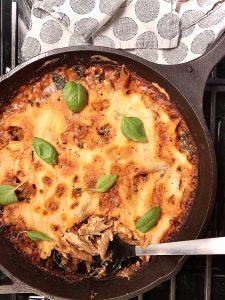 For the ziti
1 small white or yellow onion,

diced

4 garlic cloves,

minced

3 cups baby spinach,

or sub baby green of choice, chopped

½ cup sun dried tomatoes,

marinated

1 teaspoon dried oregano

1 teaspoon dried basil

½ teaspoon ground fennel,

or 1 teaspoon seeds 

½ teaspoon red chili flakes,

or to taste

2 cups vegetable broth

25 oz. (1 jar) marinara sauce,

or your favorite tomato sauce 

8-10 oz. uncooked ziti,

penne, or rigatoni
For the "ricotta" 
1 cup blanched, slivered almonds

1 cup water

1 teaspoon salt

¼ teaspoon garlic powder

1 tablespoon nutritional yeast

2 teaspoons apple cider vinegar

2 tablespoons tapioca flour
For serving
Fresh basil

Red chili flakes
Order of Operations
Dice the onion, mince the garlic, and chop the spinach. Set aside.

Make the "ricotta". Combine all of the ingredients for the sauce in a food processor and blend until smooth, yet slightly grainy. The sauce will be very watery (think almond milk), but will thicken up in the oven. Set aside.

Preheat the oven to 400 degrees.

In a large, oven-safe skillet or cast iron pan**, heat 1 tablespoon oil over medium heat. Once hot, add the onions, sprinkle them with salt, and sauté until translucent, about 4-5 minutes. Add the garlic and sauté for an additional 30 seconds, until fragrant.

** You can also use a regular skillet and then transfer mixture to a casserole dish before adding the "ricotta" and baking.

Next, add the spinach and sun dried tomatoes and continue to cook until the spinach is wilted, stirring frequently, another 1-2 minutes. 

Add the following spices to the pan, stir to combine, and sauté another 30 seconds, until fragrant. 

1 teaspoon dried oregano

1 teaspoon dried basil

½ teaspoon ground fennel (or 1 teaspoon seeds) 

½ teaspoon red chili flakes,

or to taste

Stir in the jar of marinara sauce and 2 cups of vegetable broth. Raise heat to high and bring mixture to a boil. Then stir in the uncooked ziti, reduce heat to medium, and let cook for 5 minutes, stirring occasionally. Remove from heat and adjust seasoning to taste.

Transfer to an oven-safe dish now, if necessary.

Drizzle the "cheese" sauce over the pasta mixture and use the back of a spoon or a rubber spatula to spread it evenly over the entire surface of the pan/baking dish. 

Cover the pan/baking dish with an oven-safe lid or aluminum foil and bake, covered, for 20 minutes then uncovered for another 10 minutes, until bubbly and golden brown. Remove from the oven and let rest for about 10 minutes before serving. Garnish with fresh basil, red chili flakes, and/or plant-based parmesan.